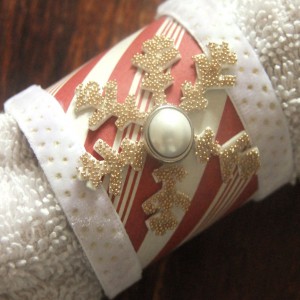 Hi There!

Merry Xmas to you & all your families. I hope you have a safe & happy Xmas & New Year XXX

Today I have a blog post up at Scrapbook Adhesives by 3L with a cute little Napkin Holder & name tag to decorate your Christmas table. The Napkin Holder is super easy to make.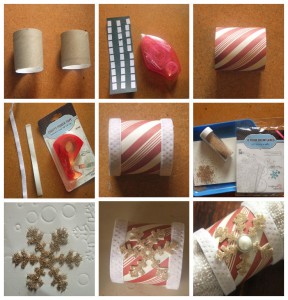 1. Cut a toilet roll or paper towel holder to approx. 2 inches wide.
2. Cut a strip of paper 6″X2″.Place E-Z Squares Refillable along the back of the paper.
3. Adhere the paper onto the roll.
4. Cut X 2 lengths of ribbon 6 inches long. Place Crafty Power Tape along the back of the ribbon.
5. Adhere the a length of ribbon on both outer edges.
6. Use Gold micro Beads and sprinkle onto 3D Foam Snowflakes.
7. Shake of excess micro beads
8. Adhere 1 snowflake on the centre of the roll
9. Using a 3D Dodz adhere a brad to the centre of the snowflake
To create a gorgeous name tag that also doubles as a Christmas tree ornament I simply took a Styrofoam ball and adhered a mix of sequins using Dodz Small. To finish off I used a Spellbinders label 28 to use as the name tag (just handwriting the name directly onto the tag) I tied this onto some gorgeous May Arts Ribbon then adhered the ribbon to the top of the ball using a Dodz 3D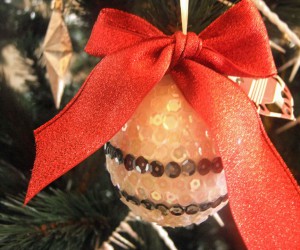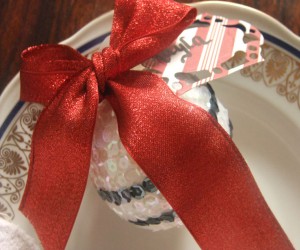 Products Used
Dodz 3D
Dodz Small
Crafty Power Tape
E-Z Squares Refillable
3D Foam Snowflakes
May Arts Ribbon
Simple Stories December Documented paper
Spellbinders Shapeabilities Label 28
Thanks for looking today!